The classic lifespan of successful products is a story in four parts:
IntroductionGrowthMaturityDecline
How this story plays out has a lot to do with the type of product and how it's improved over time, if at all.
However, the shape of the curve—the length of the arc and the speed of the decline—is also determined by how you market that product at each stage of its life.
In this article, we'll look at the different stages of the product lifecycle through the lens of marketing. You'll learn about the different strategies available and the impact they'll have on the future of your product.
Before introduction comes development
The textbook four-stage lifecycle graph looks something like this: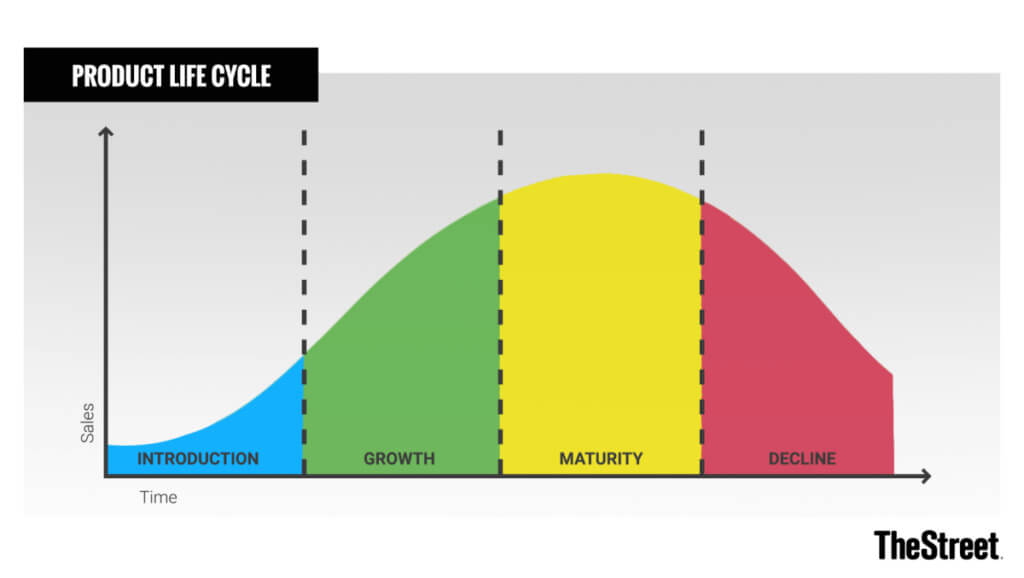 Image source
These are the four stages of a product we'll be focusing on.
However, on a more granular graph, the introduction phase would be preceded by a product development stage. This stage is used to determine the viability of your product and confirm when it should go to market.
Depending on its complexity, new product development can last for years, accruing research, prototyping, and production costs without bringing in revenue.
For this reason, it could be a good idea to get a minimum viable product (MVP) as early as possible to show how your product will work to investors and customers.
"Instead of spending years perfecting our technology, we build a minimum viable product, an early product that is terrible, full of bugs, and crash-your-computer-yes-really stability problems. Then we ship it to customers way before it's ready. And we charge money for it." – Eric Ries, The Lean Startup
A well-timed MVP reduces the risk of continually investing only to discover that a product isn't going to be a success. It also gives you a product to market.
Product lifecycle marketing in the development stage
With an MVP, or a product you're confident in talking about ahead of launch, you can use the development stage to create a buzz.
Your marketing strategy should be focused on building brand awareness. You want to tell people that your forthcoming product is solving real problems. To do that, research your target audience and build out customer personas.CXL founder, Peep Laja, explains the benefits of this in his post on identifying your online target audience:
If you know….
* Who the people are, you know how to get to them (the blogs they read, the sites they visit, the stuff they search in Google, etc.);
* How they describe the type of services you offer, you can word the copy on your site to match the conversation in their head (very important!);
* How they choose and compare products in your category, you know how to structure and prioritize content on your site;
* What they want, your value proposition can state exactly that and the whole site can be 98% relevant to them;
* What they don't care about, you can dismiss and cut it from the site;
* How their life is better thanks to your service, you know which end-benefits to communicate.
Once you know who you're talking to, you can begin laying the foundations for what's to come.
An effective way to do this is with a coming soon landing page. Share it across business and personal social media profiles to generate a targeted list of early adopters.
A landing page should include:
A value propositionProduct benefitsProduct imagesA single CTA
Here's an example from App Manager 5.0, which encourages people to sign up to its list for early access perks: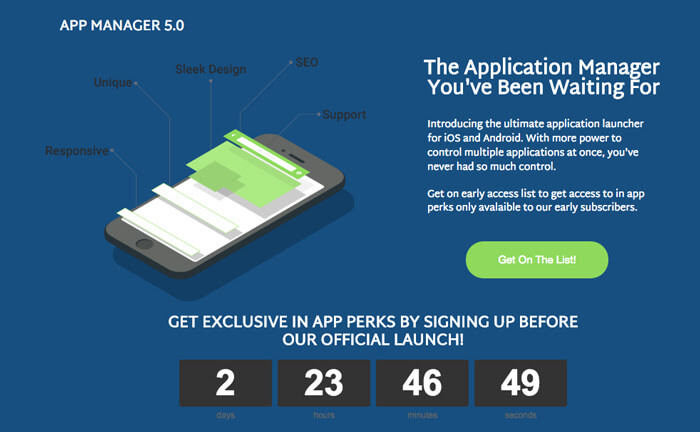 Image source
They also include a countdown clock. This adds scarcity, which helps put gentle pressure on users to sign up.
Where possible, use endorsements from industry influencers or positive reviews from customers who've tested your MVP.
Leadpages did this ahead of its Center marketing platform introduction: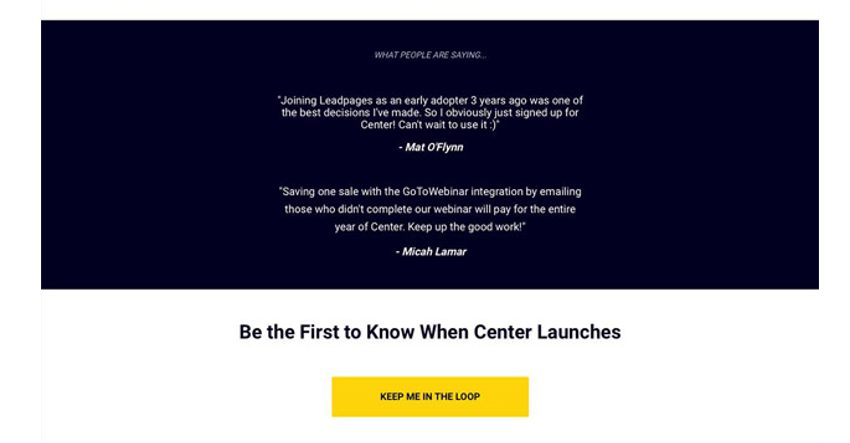 Image source
Social proof is a proven way to get people to act. Here's what GetUplift.co's Talia Wolf had to say about it when asked by CXL's Shanelle Mullin:
"By using social proof in the form of testimonials, reviews and trust icons you're helping customers make a decision, feel confident about their choice, and be a part of something bigger. Planned carefully, you can spark specific emotional triggers that influence customers' feelings towards their purchase and your business."
Social proof can also be repurposed on social media to start building trust ahead of your product launch. The more people you can get talking about your product, the more excitement you can generate as you enter the introduction stage.
1. Introduction
If product marketing has begun in the development stage, you may well be able to hit the ground running. But in many cases, the introduction stage is marked by slow-to-moderate sales and little profit.
Therefore, marketing strategies revolve around product price and promotion, with four possible options:
1. Rapid skimming
The rapid skimming strategy involves launching your product at a high price with high promotional costs. The purpose is to recover as much profit per product as possible.
It works on the assumptions that:
A major part of your target market is unaware of the productThe market is limitedCustomers are happy to pay the high priceCompetition means you need to create brand preference
It works best when:
Your target market is early adopters and innovators Your short-term goals are to maximize profits and increase product sales quickly
Apple proved this with the introduction of its original iPhone. The product launched with a high price and big promotion to capture a significant chunk of the market, before the likes of Samsung came along to challenge them.
Like Apple, your strategy will require significant marketing investment in content, traditional media, and PR. You'll need to maximize your presence on multiple channels with educational content and influencer marketing to ramp up the excitement.
2. Slow skimming
Slow skimming also involves launching your product at a high price, but instead with low promotion. The idea is to recover gross profits while keeping marketing costs low.
It works on the assumptions that:
The market is limitedCustomers are aware of the productCustomers are happy to pay the high price There is a lack of competition
It's a strategy used by software providers like SAP and IBM i2, whose systems are vital to companies' operations.
You can focus on reaching a small target market via outbound sales teams and strong educational content. This works to promote exclusivity while still selling the benefits.
Growth will come mostly through word-of-mouth. This means social proof and the customer experience are paramount. Customers should feel special at every touch point; from interacting with them on social media, to personalizing emails and creating targeted ads.
3. Rapid penetration
Rapid penetration consists of introducing a product at a lower price with high promotion. The purpose is to become a market leader and maximize profits.
It works on the assumptions that:
The market is vastLow price is important to buyersCompetition is strongThe market needs to be informed and convinced
It's a strategy often used by smartphone brands like Samsung and Huawei in emerging markets such as India. Devices are priced lower, but media visibility is high.
If rapid penetration makes sense for your product, focus on convincing customers that it's the best choice for them. To do this, work on building trust through social proof and leveraging industry influencers.
Gymshark is a great example of a company that was able to do exactly this.
"To get the business off the ground, [Ben] Francis recruited a small number of social media stars and laid the foundations for what is now known as the Gymshark 'athlete' community. Now, those influencers….are well-known representatives of the brand.
"Over time, other popular influencers…have begun working with the brand and regularly post photos and upload YouTube videos wearing the clothing." [via Influencer Matchmaker]
Gymshark entered a crowded market dominated by some of the world's biggest sporting brands. But its clever use of influencers spoke to the right kind of people and helped turn them into a £1 billion company.
4. Slow penetration
Slow penetration takes the "slow and steady wins the race" approach. It involves introducing the product at a low price in the hope that it will encourage acceptance.
It works on the assumptions that:
The market is vastProduct awareness is highBuyers are price-sensitiveCompetition is low
The long-term goal is to maximize sales or profits.
Take Netflix. Everyone is familiar with movies and understood what they were getting from the company's DVD rental product.In 2007 when they launched their streaming service, it faced no real competition. The company only had to convince people to take a chance. It did that by centering its marketing on convenience and price.
Here's the Netflix homepage back in 2010, focusing on the benefits of the product: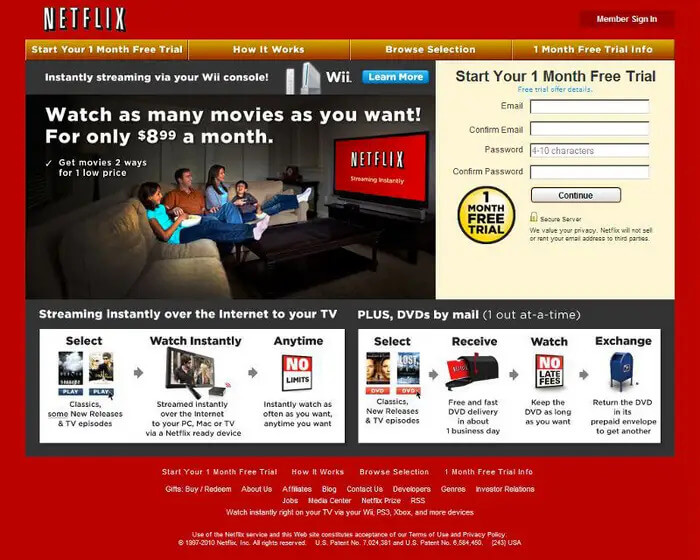 Image source
Back then (as they can now) users could take advantage of a free trial. This is a good marketing tactic to inspire action from people still on the fence.
Those core messages remain fundamental to Netflix's marketing today: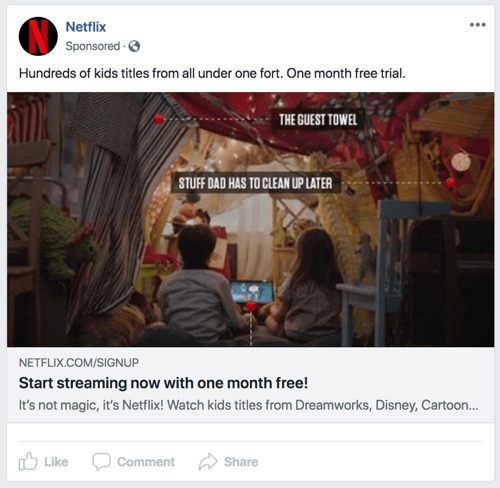 If your product is well known and cost is an important buying factor, build your marketing around value for money, with price as a key USP.
2. Growth
The growth stage is where business starts to increase at a rapid pace towards the peak of the arc. You'll experience a boost in sales and market presence. You'll also notice marketing turning more towards the competition.
Product lifecycle management goals at this stage are:
Increasing market shareCreating brand preference
Strategy expert, Gary Fox, defines growth marketing as:
"An agile and adaptive marketing methodology that focuses on how to get, grow and keep customers."
Achieving this means taking a deep dive into the data to see how you can stand out from the crowd.
Researching your audience
By the growth phase, you should have enough data on current customers to run qualitative research on their experiences.
Dig into conversations your customers are having with sales reps and customer service teams to find out:
What problems they're facingWhat help they need to solve these problemsHow your product is helpingWhat more your product can doWhat customers like and dislike about your productWhich other tools they use
If your sample size is low, consider using surveys and one-on-one customer interviews to learn as much as possible.
You should also look closely at your website and social analytics. Which marketing channels drive the most traffic? Which social platforms deliver the best engagements?
This will help you establish where to focus your marketing efforts.
Use your data to:
Develop new featuresImprove the quality of your productCreate new user personasFind out which elements of your product are most valuable to customers
Researching the competition
Look closely at your competitors and ask yourself:
How does our product compare? What do we do better/differently than them? What makes us stand out?
Use this information to refine your value proposition, identify new markets, and examine how you can exploit weaknesses in the competition. The results can drive your marketing.
Here are two examples that demonstrate the point:
1. Groove
By getting feedback from its core user base, Groove was able to identify what customers wanted information about. This led to the creation of a blog sharing the pitfalls of growing a SaaS company. Something no one else was doing at the time.
Each blog post was shared with selected influencers, which led to positive reviews and guest blogging opportunities. These helped grow the company's user base to turn Groove into a $5 million a year business.
"We spent two months doing nothing but research, writing, and talking to content marketers we respected about how they turned their blogs into actual drivers of growth for their business.
"And what we learned changed everything for us."
– Alex Turnbull, CEO & Founder of Groove.
2. Airbnb
Staying ahead of the competition may require you to explore new markets to increase reach and expand your user base.
Airbnb was able to do this by introducing a new feature.
When the company learned that its audience also searched Craigslist for accommodation, it created a feature that allowed hosts to copy their listing to Craigslist with one click.
This gave Airbnb immediate access to a new market of target users and helped it grow its listings from 50,000 to 500,000.
3. Maturity
The maturity stage is the height of your product's success. How long this lasts depends on how long you can maintain your market position.
By now, you've reached peak market saturation and consumers are aware of the product. This means it is less likely you're going to be able to differentiate on features and stand out on price.
Your goal now is to defend market share to continue to maximize profits.
One way to do this is by running marketing campaigns for each new feature or iteration of the product.
Going back to Apple, the company is able to maintain market share and extend the maturity stage (prolonging decline in the process) of its iPhone by continually evolving the product.
A bigger and better version is released each year and Apple invests heavily in marketing to promote the benefits. This helps attract new customers while convincing existing ones to upgrade: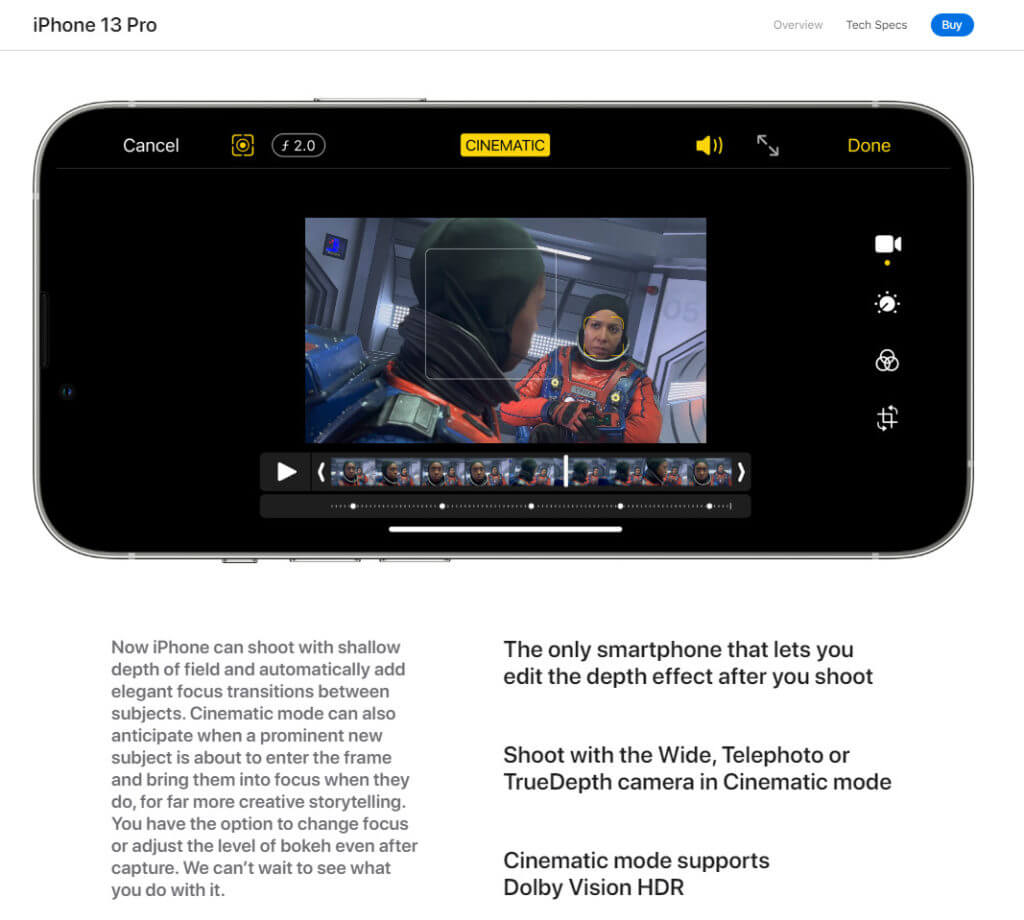 As a result, the growth peak is flatter and interest is consistent, as this Google Trends graph shows:

If your product isn't consistently upgraded, your marketing should focus primarily on brand equity.
Establishing strong brand identity
When you're no longer able to differentiate on product features, brand is your most powerful tool for standing out.
At this point in the product lifecycle, your brand is already established. Now you're looking to become the company that consumers flock to automatically because of its association with quality, trust, reliability, and purpose.
Brand equity is the reason people choose Coca-Cola over Pepsi and Google over Bing.
Building it is done by creating solid branding campaigns that develop emotional connections. This requires three steps that are covered in depth in our post on creating an effective branding campaign that inspires a movement.
1. Fit
Fit is about reaching the right audience on the right platforms and channels.
By this stage, you'll have a solid grasp of who you're marketing to. Dig deep into your target audience demographics to establish how your campaigns will resonate.
Next, decide where to take that message and how to communicate it.
For example, Mailchimp uses whimsical imagery and illustration to engage its audience on Instagram: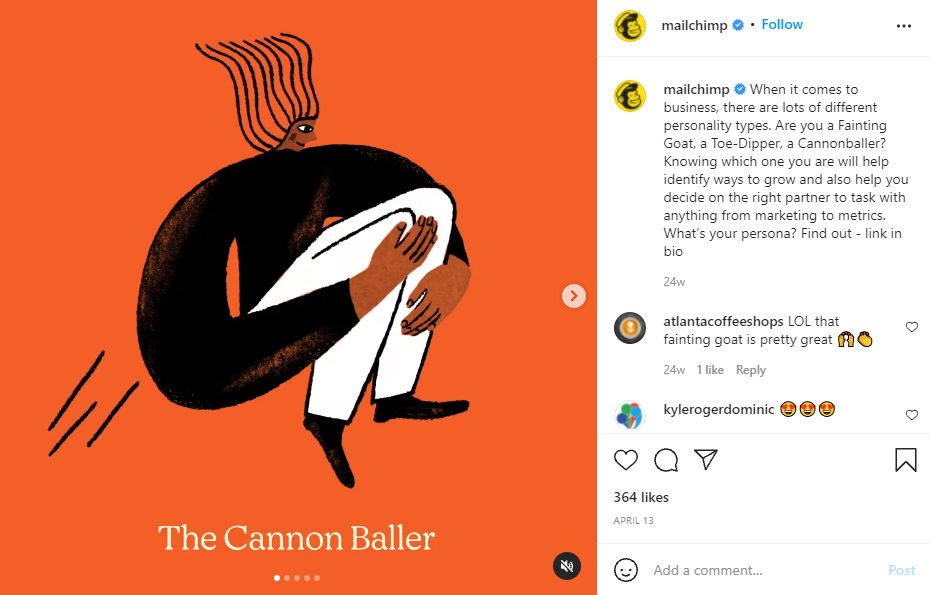 The approach works well with Instagram's creative, image receptive audience.
It wouldn't perhaps work as well on LinkedIn, where the audience is more professional and business-minded. This is evident in Mailchimp's LinkedIn approach, which is focused on how the platform helps small businesses and entrepreneurs: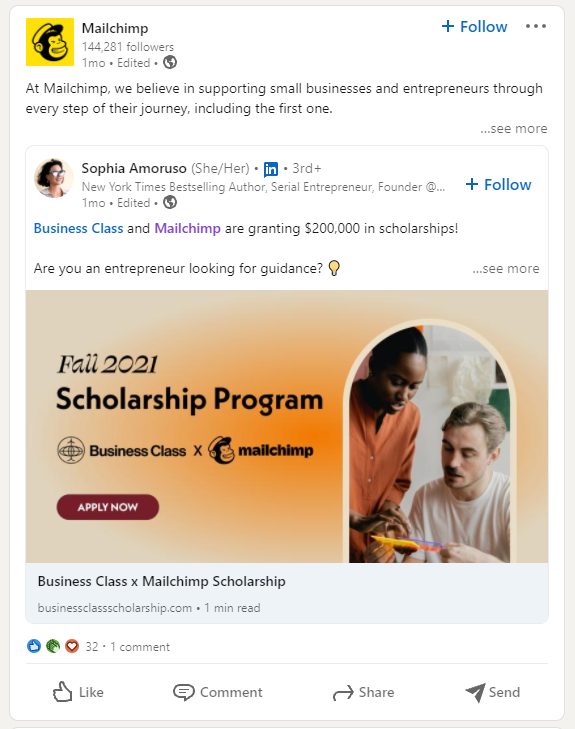 Look closely at how your audience interacts with different platforms and channels. Meet them with content that fits with their interests and behaviors.
2. Focus
68% of consumers say they expect brands to be clear about their values and take a stand on them. By focusing on what's important to you and your audience, you can build trust.
Go back to your purpose and mission. Beyond making profits and the best products, why are you doing what you do? What do you care about?
If an issue matters to you, your team, and your customers, speak on it. We've seen this happen more often in recent years with brands lending their voice to the Black Lives Matter Movement, gender equality, and climate action: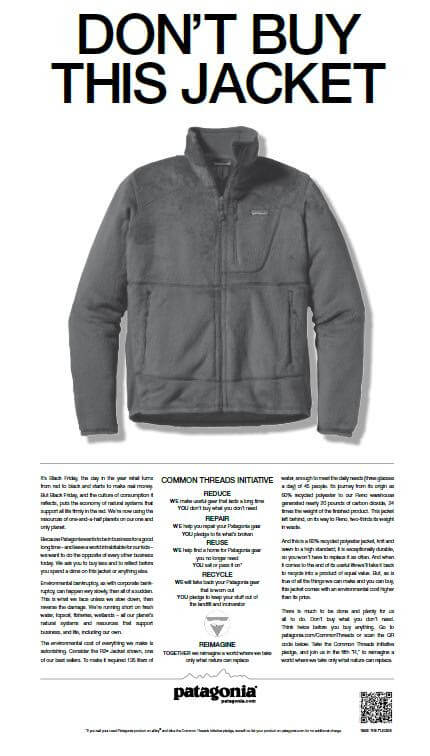 Image source
Patagonia's 'Don't Buy This Jacket' campaign ad addressed consumerism and sustainability head-on. Consumers that support your brand message will buy into the product and follow the guidelines you give them (like not buying a new jacket if you already own one).
3. Consistency
Be consistent in everything that you do. From the quality of your product to the service you deliver, brand equity is about being a company customers can rely on.
Post regularly on social media so that customers know you're activeEngage with customers on every platform and channel by answering queries, solving problems, and joining conversationsContinually monitor campaigns to see how customers engage with your marketing and make improvements to stay relevant
4. Decline
When your product hits the decline stage, sales and profits will take a hit.
Typically, this is due to a new product that provides a better solution, or a change in consumer lifestyles that means your product is no longer relevant.
On the development and manufacturing side, you'll have a decision to make:
Continue with the product in its current formMake improvements to prolong the decline phaseDrop the product completely
The right option will be determined by where you see the market heading.
Whatever you decide, manage the decline by milking the brand. Milking involves snatching the largest possible revenue and profits from a product in the shortest amount of time.
But you want to do this while scaling back marketing spend.
Start by analyzing your marketing platforms and channels to see which offer the best ROI. These channels should take priority. Those with the highest customer acquisition costs can be scaled back.
When you know where to place your focus, your attention should be on attracting sales from 'laggards'.
Laggards are a group of late-adopter consumers. They tend to avoid change until there's no real alternative. This passage from the book Head & Heart Management sums them up:
"Think of them as loyalists, and sometimes good environmentalists. They probably started using beloved products when they were young. They have powerful associations. They function just fine. Loyalists know there are things that are faster, supposedly more convenient, possibly healthier."
Loyalists with "powerful associations"—these are exactly the kind of people you want as customers.
The same book also lists laggards' characteristics:
"…neighbors and friends are main information sources."
Use these traits to your advantage by marketing with social proof on landing pages and in social media content.
Nature Made does this with an expert's stamp of approval in social ads: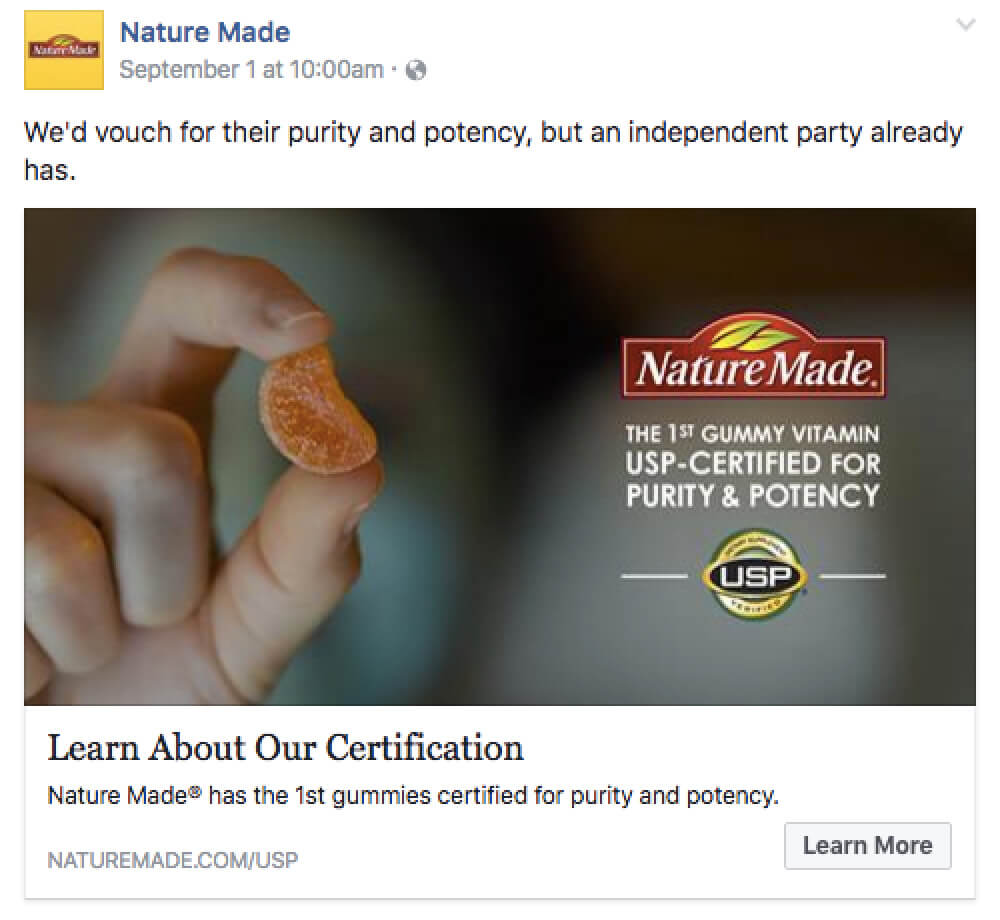 Image source
Had they described the benefits of the product themselves, they'd likely have little impact on customers who are loyal to a different product. Adding USP certification gives them a stamp of approval that even the most loyal of customers can't argue with.
Kajabi does it by showing how real users have benefitted from the product:
84% of people trust online reviews. When someone is on the fence, seeing what your product has done for others just like them can make all the difference.
You can also leverage the influence of brand advocates and let them do marketing for you. Getting friends of late adopters to recommend your product is one of the most effective ways to get new customers. That's because 92% of consumers trust word of mouth.
Often, recommendations will happen organically because a customer loves your product or has an emotional connection to your brand.
If you want customers to proactively recommend your product, you may need to incentivize them. You can do this by rewarding them for spreading the word.
Dosh, for example, gives customers and their friends bonuses for referrals: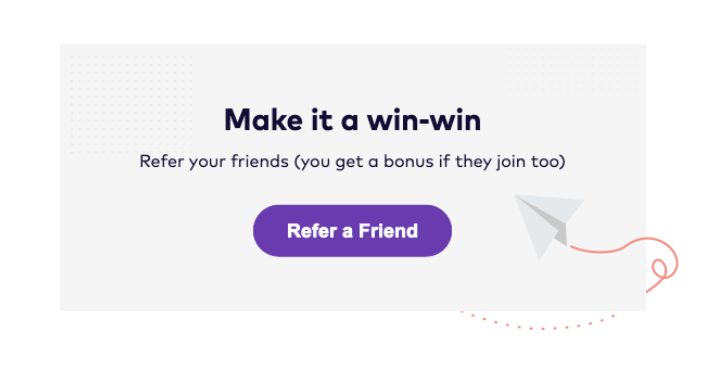 Image source
Thread gives customers discounts whenever a friend they've referred places an order using their discount code: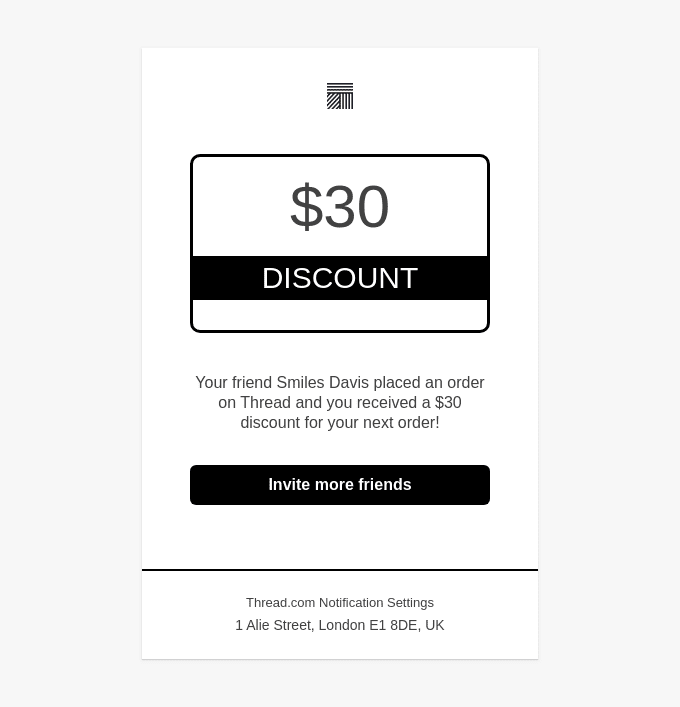 In both cases, it's a win-win. New customers are encouraged to purchase based on a recommendation and an incentive. Existing customers are encouraged to keep referring to earn rewards.
As a brand, you get to ease the slope of the decline, drawing the last bit of profitability from your product with modest marketing investment and resources.
Conclusion
Each stage of the product lifecycle will dictate how you market your product and where you position your brand in the marketplace.
Here's a recap of the key takeaways from each phase:
Development: Begin building brand awareness ahead of launch to attract early adopters.Introduction: Let marketing be led by your pricing and promotion strategy. If your product is priced high, focus on educating your audience on the benefits. If you want to reach a lot of people quickly, focus on social proof and influencer marketing.Growth: Use audience and competitor research to establish brand presence by creating content that your target market wants.Maturity: If your product is continually improved, build campaigns around new features and benefits. If not, brand equity is your strongest asset. Decline: Prolong decline by using social proof and brand advocates to attract late adopters.
Look at how your product and brand differ from the rest. How do you stand out and why? If you can find a way to communicate that, you can build trust that will carry your product through each stage of its life.
The post How to Model Your Marketing Against the Product Lifecycle appeared first on CXL.
Article Source and Credit cxl.com https://cxl.com/blog/product-life-cycle/ Buy Tickets for every event – Sports, Concerts, Festivals and more buytickets.com